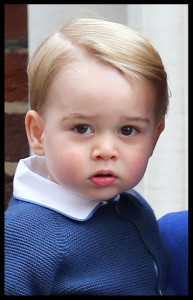 The Sunday Times has suggested that we will start to see a little more of our favorite little prince in a recent article George to be Prince Visible:
'The Duke and Duchess of Cambridge are planning to make more public appearances with Prince George. The prince's visit to his newborn sister, Princess Charlotte, last month was only the third sighting of the future king on British soil but sources say George, who will be two in July, will become "more visible over the next few months".
A royal aide said: "The duke and duchess feel most people have been very supportive of the measures they have taken to protect his privacy. But they do realise there is a good-natured interest [in him] from people."'
It is possible that we will see George at the Royal Norfolk Show which takes place on 1 and 2 July.  The event is seen as a great family outing.