Every little Prince or Princess in your life deserves to have heirloom quality pieces just like those given to Prince George or Princess Charlotte.  Being from the south and from a crafty bunch (I'm only talking about in the artistic sense…), I know how comforting a quilt can be to an infant/small child and how cherished they can be when that child is older.  That's why I want to tell you about Ollie & Olina.
Ollie & Olina is a newly launched collection of heirloom-quality baby quilts, bibs, and burp cloths designed to be used today and cherished tomorrow. Handmade in the USA, Ollie & Olina's collection features 100 percent cotton and cotton terry paired with the exclusive "Hello, Bear" woodland-inspired prints by designer Bonnie Christine. Each beautifully crafted item is designed to endure everyday use while retaining its keepsake status- the absorbent premium cotton & faux-chenille design maintains its tactile softness with each washing.
Ollie & Olina quilts measure approximately 30" x 40" and come in a variety of delightful wilderness-oriented designs this season, with prints featuring bears, bucks, leaves, and morels. A matching newborn bib and burp cloth completes the collection. The three-piece collection comes in an elegant gift-ready box and retails for $325 at www.ollieandolina.com.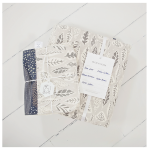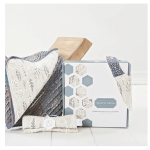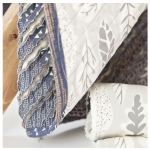 A trio of Ollie & Olina baby bibs in complimentary prints are available in newborn size 8" x 10" or toddler size 10" x 13" with sets retailing for $50. All bibs have plastic double-snap closure at the neck. Burp cloths, measuring 8" x 21", may also be purchased in a set of 2 coordinating prints for $35. An ideal practical yet lovely baby shower gift, these sets are packaged in gift-ready boxes as well.
"I launched Ollie & Olina to deliver a little piece of function and beauty to new mothers," said Erika LaPean, founder of Ollie & Olina. "They deserve a memento of their children's first months."
By ethically sourcing the highest quality materials and proudly manufacturing in the United States, Ollie & Olina aims to provide families with lasting memories that will be passed down for generations. To learn more and view the complete collection, visit www.ollieandolina.com.